Posting a Job Listing
Managing Your Job Listing(s)
Managing Your Brand Page
_____________
How do I post a job on Creatively?
To post a job on Creatively––freelance, full-time, part-time or internships––on our website click the dropdown menu "Create" on the top right corner of the homepage and select "Post a Job."
What information do I need to post a job?
JOB or PROJECT TITLE. A project title should be used if you're hiring multiple roles for one project.
JOB LOCATION. If there are multiple location options, please create a separate listing for each location. You may also select remote as an option.
EMPLOYMENT TYPE. Full-Time, Part-Time, Internship, or Freelance
START and END DATES (optional)
ROLE TITLE. If hiring for one role, this will be the same as the job title.
SKILLS. Add any skill(s) that you'd like to associate with the job posting. These "tags" influence which users appear in your search. While we have over 300 skills to choose from, please reach out to feedback@creatiely.life if there additional tags you'd like to us to add to find the ideal candidate.
JOB DESCRIPTION
PRIVATE JOB (optional). You can make a job private if you'd like to search for candidates but not allow Creatively users to search for the listing.
To complete your listing, press "Publish." Note, you can edit your job listing at any time, even after it's published.
When joining Creatively as a recruiter, what tags should I select for my profile?
When joining Creatively as a recruiter, select the tags that are most relevant to your company and/or hiring needs.
Can I link out to job listings on my company's site?
In the future, you'll be able to link out to listings on your company's site (i.e. your company's career page, ATS, or Greenhouse). We plan to release this feature soon. For now, just include any relevant applicant information (i.e. link to Greenhouse link) in your job description.
Can I make a job listing confidential?
Yes. You can make a job listing confidential by clicking "Private Mode" at the bottom of your listing. Private listings won't be shown on our website or app. They also can't be found via google search. And they're only viewable via a direct link if the user has permission to your brand page.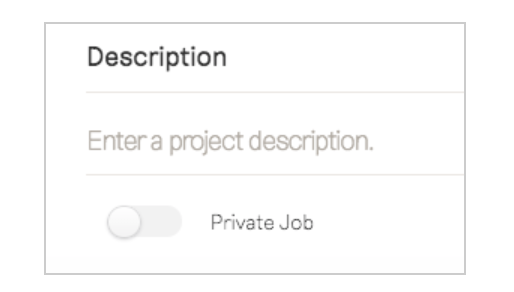 How do I manage my job listing?
You can access your job listings by going to the "Jobs" section on Creatively, clicking the dropdown "All Jobs", and then selecting "Your Jobs." You can also view your "Archived Jobs" using this dropdown.
For any active job listings, applications will be sent through to the designated jobs contact. Reach out to feedback@creatively.life or your account manager at Creatively to set up or change that email.
Once the position is filled, you can edit the status of your listing by clicking on the drop down field next to "Currently Hiring."
What does it mean to convert a job listing to a project?
By converting a job listing into a project, you are turning the work that was created based on that job listing into a project, to which the hired creative(s) can add their work and your brand can add to its page.
How do I search for candidates for my job listing?
Once you post your job listing on Creatively, click the dropdown "All Jobs" and click "Your Jobs."
Select the role for which you would like to search for candidates. Click the "Search" button adjacent to the role title, which will bring you to a page that lists all users on Creatively who match the criteria listed in the job post. After reviewing the candidates that match your criteria, you can remove the filters in the search for a broader look.
How do I see who has applied for my job listing?
When you open the job listing, click "search" on the right side, then a project management tool will appear that allows you to see who has applied for the role. Click on the "Applied" tab to see all applicants.
Can I edit my job listings?
You can edit your listing at any time by clicking "Edit Listing" in the top left corner of your job listing, then updating the appropriate fields and re-publishing the post.
Can I fill a role with more than one applicant?
You can fill a role with multiple applicants by clicking "Add Role" toward the bottom of your job listing.
How do I receive job inquiries and contact qualified candidates?
Each brand has a contact email associated with their listings. This email will receive all notifications, direct messages and job applications from Creatively users. If you would like a different email to be used, please email feedback@creatively.life with the preferred email or reach out to your account manager at Creatively.
You can message candidates by clicking search in your listing and selecting the drop down on the top right corner of the candidate tile and click "Contact." You may also reach out to Creatively users via DM button on their profile.
Who can access my job listings?
Individual job listings can be shared with anyone, but only members of Creatively can view the complete details. Non-members are prompted to sign up or log in to view the job details.
What metrics are captured?
You will be able to see the number of times the role has been applied to, viewed, and shared with others. For now, just reach out to feeback@creatively.life to get this information.
How do I access my brand page?
You can access your brand page through your personal Creatively profile. Once you are a brand owner, your personal account will be synced with your brand profile – giving you access to post projects and job listings on behalf of your brand.
How do I manage my brand page?
When you visit your brand page, you'll be able to reorder the tiles on the page. You can also upload additional projects to the brand page, or your personal profile, by posting to the respective page when you
"Create a project".
If anyone else on your team should have permissions to manage the brand page, please contact feedback@creatively.life. Note, anyone with brand permissions must have a personal account set up first.
What happens if a user tags my brand in their project?
Verifying work is option. If you choose to verify work that your brand has been tagged in, this will add the project to your brand page and verify the project creator as a collaborator with your brand. Verifying the work will also give you access to edit the project.
How can I organize projects added to my brand page?
Just visit the Creatively brand page for more information on how to build your brand page using Creatively's immersive portfolio tools.
Have more questions? Reach out at feedback@creatively.life